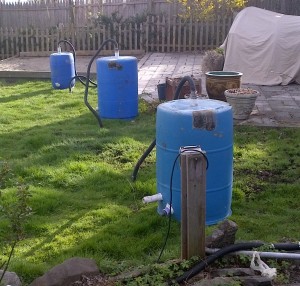 4/1/2012 Middletown, site NY….Using an alias of Fritz the Fracker, and not disclosing his actual address to protect his technology, a Middletown man says he has begun fracking for natural gas.
The pictures you see on the website he says show how he's getting gas from beneath the city limits.   He explains the pictures show injector and receptor units he built for the fracking system in his back yard.
Don't you need a lot of high tech equipment for this kind of project?   He answered that he is a long time tinkerer.   He said he used a hydro drilling method he read about in the Mother Earth News in the 1980's, along with garden hose and parts from an old power washer and was able to drill deep enough to reach gas.  His drilling guidance system he noted was a laser light pointer and hand held GPS.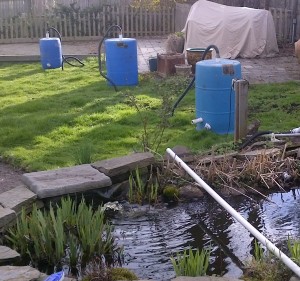 What about the fracking fluid?    Isn't that dangerous?    He said he's heard commercial industrial fracking installations have had problems.   He said he uses small amounts of water from an ornamental fish pond on his property.    He says the fish living in the pond release just enough ammonia and nitrates into the water.  He slowly pumps this water to the substrata where it agitates the gas molecules.  This releases the gas and it rises and is collected by his receptor units.
How much gas do you recover?   He said his is a small operation.  Home brew type he said.  Not connected to the gas grid.  So far he only uses the gas for cooking on his gas barbecue grill he says.
Do you envision expanding your system?   Now that we know how to recover this kind of gas maybe it's best we leave it until we really if ever need it, he said.   He added, right now there seems to be plenty of gas available.   I'm thinking of other projects, he noted.  Perhaps a wind turbine up between the two maple trees.   Or maybe I'll use some of the under ground fracking tubing to finish up the mini supercollider I've been working on in the basement.   Finally he said, "Comeback next year and maybe we can do another April first story."
-30-